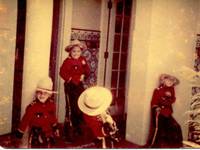 Tom and the Mounties
In case you are wondering, I'm the guy on the far right who is getting shot and firing back one last shot as I go down. Yes, I know the hat was a bit large for my head, but I grew into it. The others are my cousins, including the one pulling up her pants in the midst of a shootout! Girls!!
I found this picture not too long ago as I was scavenging in my old boyhood bedroom. My grandparents would travel a lot, and wherever they went, they would bring us different outfits. Thus, at different times I was a "Gaucho" with my "boleadoras" and all. (Those things could kill someone. See here and here.) At other times I was a Mexican Charro all dressed up ready to serenade some "señorita" or get into a fight, probably preferring the latter. And once we even ended up wearing Fidel Castro's militias' olive greens with the 26th of July revolution badge and all. That was a result of a trip to Cuba just as Fidel Castro had taken over and Fulgencio Batista had fled. Castro was still seen by many as the Messiah who had liberated Cuba.

Then came the days when the TV set was King and I would watch Lassie, Rin Tin Tin, Highway Patrol, Perry Mason, Sea Hunt, Bat Masterson, Texas Rangers, Bonanza, Wyatt Earp, Cisco Kid, and sooo many more. And

all

of these programs were translated into Spanish, including the theme songs. So I know the songs for many of these in Spanish and sing them to my wife whenever I want to get her really annoyed, particularly because I'm a lousy singer, although that has never been an impediment.